Review for "Hunting the Hero" by Heather Boyd
I love reading. I have spent the weekend since I got off work Friday afternoon immersed in the Regency world.  One of the best ways to escape the heat of a Texas summer, in my opinion.  Yesterday I read an advanced copy of "Hunting the Hero", the conclusion to the "Wild Randalls" series by Heather Boyd, which hits ebook shelves on September 1st.  Be sure to add this series to your TBR 'pile'!   Ms. Boyd is definitely one of my new favorite authors.   Here's my review of this book.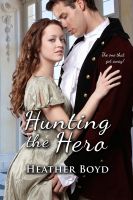 "Hunting the Hero" is the long-awaited conclusion to the series "The Wild Randalls".   The author gave me an advance reader copy for reviewing, and I was so excited to read it.  However, I was so impatient for the reunion of sister Rosemary with her three brothers that I wanted to skip to the end, but I settled down to enjoy the ride.
Lord Constantine Grayling has decided it's time to put aside his mourning for his wife after two years and visits a brothel. Upon his first visit, he is taken by the lovely and enticing Calista, a woman with secrets buried in her brown eyes.  He is so taken with her, he pays for her time to be his exclusively, which comes as a relief to her as she is just as taken with him. But Calista is a realist, forced into her circumstances long ago.
Lord Grayling is so taken with her, he wants her in his future, whether as mistress or as a governess for his three lonely daughters.  But while she refuses, she is unhappy once he cuts off ties with her – she misses him.  Fate steps in in the form of Lady Arabella, a friend to Constantine, and she whisks "Calista" (who assumes her secret name of Meredith again) away as her companion.  With a few minor alterations to her appearance, Melinda appears at Constantine's house as a governess applicant and hired on the spot.
While the previous three books in the series had the brothers interacting throughout each one, this fourth book did not reunite Rosemary with her brothers until near the end.  This gave us the chance to know Rosemary/Meredith as an adult, long away from her family, and who she became over the years.  Although forced into her current employment by the limited opportunities afforded to women of this era, she still comports herself as a lady, and is able to teach courtesans or young children in the ways of proper behavior.
I was completely drawn into the book from the very beginning.  Quite frankly, I had not intended to finish the whole thing in one sitting, but the story became so real to me I couldn't help but continue reading to see how it played out.   Heather Boyd's voice is so strong that I became a fan after the first book.  Each one I read became my favorite, and with this fourth book, I was immersed in the world of Grayling and Meredith.
I very much look forward to reading more from Heather Boyd, and hope she has more in store for readers with a story for Lady Arabella and other secondary characters from this series.